River2sea Double Plopper, DP148, 5-3/4", 5/8 oz, New, Choice of Colors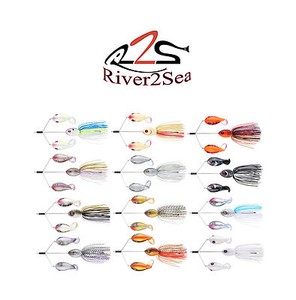 ---
River2Sea
DOUBLE PLOPPER
CREATED BY LARRY DAHLBERG
Double Plopper Buzzbait     5-3/4"      5/8oz
If you like the original River2Sea Whopper Plopper, then you're going to love the River2Sea Double Plopper Buzzbait. Built with two counter-rotating plopper blades to create twice the disruption, the River2Sea Double Plopper Buzzbait offers an incredibly weedless presentation that can be fished super-fast, incredibly-slow, or with a dead-stop – because it floats!
Quite possibly one of the most versatile topwater lures on the market, the River2Sea Double Plopper Buzzbait can be bombed over open water, crawled over mats, or twitched and paused in the backs of pockets to incite explosive blow-ups. Backed by a super-sharp River2Sea Big Bite 2X strong hook, the River2Sea Double Plopper Buzzbait delivers a double-dose of disruption to give anglers twice the action and twice the excitement.
SHIPPING:
WORLDWIDE SHIPPING
SOME COUNTRIES EXCLUDED (SEE LIST)
I usually ship the same day. We specialize in fast shipping.
I ALWAYS COMBINE SHIPPING FOR LOWER COST.
INTERNATIONAL CUSTOMERS
There is no tracking numbers for First Class Mail (cheapest shipping); if you want Tracking Numbers, you will have to pay higher shipping for PRIORITY MAIL. I will send shipping cost for both on your invoices. SHIPPING TIMES: Because shipping varies Country to Country, delivery times will vary. It usually is 7 days to 5 weeks, depending on the location and Customs Time of handling.
PLEASE VISIT MY STORE AND CHECK OUT ALL THE GREAT ITEMS.