1999-2005 Chevy GM Car 207 3.4L V6 "E" - HYPER DISH TOP PISTONS & CHROME RINGS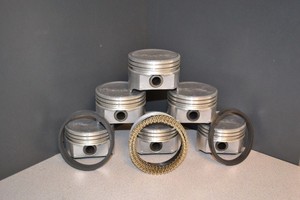 ---
Grumpy's Performance Center

Store Payment Shipping Returns About Us 1999-2005 Chevy GM Car 207 3.4L OHV V6 "E"
HYPER DISH TOP PISTONS AND CHROME RINGS
Passenger Car Models, VIN "E"

Click Images To Enlarge. All items are BRAND NEW.Images are GENERIC, but represent the type of product that you are purchasing. THIS KIT COMES WITH THE FOLLOWING PARTS:
PISTONS
AVAILABLE SIZES:
STD, .020", .030"
Piston Type
Dish Top .270" Deep, Coated Skirt, Hyper-Eutectic
Bore Inch
3.622"
Bore MM
92.00mm
Compression Height
1.470"
Ring Top
1.2mm
Groove 2nd
1.5mm
Width Oil
4.0mm
Pin Diameter
0.9054"
Compression Ratio
9.5 : 1
PISTON RINGS
AVAILABLE SIZES:
STD, .020", .030", .040"
Piston Ring Type
Chrome (Steel Top)
# of Cylinders
6
Width Top
1.20mm
Ring Width Top
1.50mm
Ring Width Oil
4.00mm
Item Description
These pistons are manufactured by either Rock, Federal Mogul, ITM, Safety, Silvolite or Topline.

These piston rings are manufactured by either Rock, Federal Mogul, Hastings, ITM, Perfect Circle, Safety or Topline.

We offer many different brands to find you the best deal and to get the highest quality in your parts. We are a well established business and have made a good name for ourselves over the years, so we have MANY options available to us, not just one brand and one distributor.

For STOCK and SEMI-PERFORMANCE rebuilds, it's hard to beat the value of our cast and hyper-eutectic pistons. Our pistons are all made from high-quality aluminum alloys and feature a carefully controlled casting, heat-treating, and CNC-machining process. And because they're designed and manufactured to EXCEED O.E.M. SPECS, they'll provide improved reliability, performance, and a long service life. Only the BEST materials are used in manufacturing our piston rings. The compression rings are made from the HIGHEST QUALITY gray iron, ductile iron and high strength steel. Barrel face, taper face, positive twist, reverse twist and Napier face designs among others are used where required. The oil ring assemblies include designs such as SS-50, PC-98, Wire Latch & Flex Vent. Oil ring expanders are designed for ease of installation to help prevent overlap during assembly. SAME DAY SHIPPING!

We have oversized pistons and rings available at no additional cost. Just let us know what SIZE of bearings you will need on the paypal note or mail. If we don't get a message we will assume you are good with standard size and that's what we will ship.

Grumpys Performance Center has been rebuilding quality Gas & Diesel Engines for over 25 years and we use these exact same bearings in all our rebuilds. We wouldnt offer 3yr/100k (gas) and 3yr/200k (diesel) warranties on our rebuilds if we didnt believe in the QUALITY and RELIABILITY of these bearings. So we recommend this product... Also, because they're designed and manufactured to EXCEED O.E.M. specs, they'll provide improved reliability, performance, and a long service life.

ALL PRODUCTS MEET OR EXCEED O.E.M. SPECIFICATIONS NOTICE: This is a Standard/Stock Size Kit. Oversize Pistons and Rings are available at no extra cost. Please specify sizes needed at checkout, via Paypal Notes OR Email, otherwise your kit will ship with Standard Sizes.

We ship a lot of products, and sometimes our inventory changes before updates can be made on . Because of that, there are no specific brand requests available, and we hold the right to substitute a part with one of equal or greater quality.

We would like to earn a 5-star positive feedback on EVERY sale. If you feel that you need to leave negative feedback or less than a perfect 5-stars on any item you purchased, PLEASE call us immediately. We will do whatever it takes to rectify the issue. Your satisfaction is our only goal.
Payment Policy
We accept payment via PAYPAL or Visa / Mastercard. We can no longer accept MO's or cashiers checks, according to recent changes in policy. Payment must be received within one week of the purchase. Paying sooner and specifying sizes on parts will lead to less unnecessary delays in shipping.
Shipping Policy
Once payment for an order is received the product will be shipped the same day (during business hours) on items in stock. Same Day shipping does not apply to Saturdays/Sundays/Holidays and is only on orders received until 4:00 PM PST. We use UPS for most of our Continental USA shipments. Tracking numbers will be provided if requested. We will need your shipping address and billing address before any shipment is made. Shipments MUST be inspected at the time of the delivery for damage. If a freight claim is not filed then we can not do anything. Contact us to do a freight claim immediately if damage is noticed.
Shipping rates cover within the 48 Continental United States.We will still gladly ship to Alaska, Hawaii and Puerto Rico. We do require that you get in touch with us before purchasing, as we need to calculate shipping cost ahead of time. You will be responsible for the full cost of the shipping on all kits and items, we cannot offer free shipping on kits to AK, HI or PR.
Returns Policy
All returns must be made within (30) days and must be in original, unused condition. C.O.D.s are not accepted on returns, buyer is responsible for return shipping. All returns are subject to a 20% restocking fee. Return payments will be made in the same manner the original payment was made. If the return is based upon a mistake that WE made, we will waive the 20% restocking fee and reimburse ANY shipping expenses acquired.
About Us
Grumpys Performance Center is a One-Stop Service and Dealership Alternative. We have been rebuilding quality engines for over 25 years. We pride ourselves on the continuous quality of our workmanship. We employ state-of-the-art equipment in our new 40,000 square-foot machine shop and warehouse located in Oregon. We are both ASA and Engine Pro certified and a longtime member of the Automotive Engine Rebuilders Association. We are the #1 Diesel and Gas Engine Remanufacturing Machine Shop in the Northwest and we are now happy to be expanding our services NATION WIDE.
As you can see, we have a large warehouse and an actual location, not some apartment with a guy working on a laptop. We are a well established business that has been operating for over 35 years (we started in 1972) and we aren't slowing down any time soon!
Remember...PERFORMANCE is our middle name!
We eliminate the middle man and make our distributors available to you! GRUMPY'S PERFORMANCE CENTER